These hackers wear white hats (ABQ Journal by Dan Herrera)
December 4, 2014
By Dan Herrera / Editorial Page Editor
PUBLISHED: Friday, November 21, 2014 at 12:02 am
ABQ JOURNAL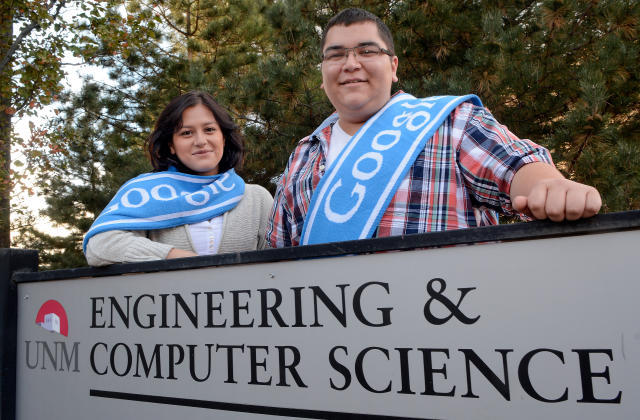 University of New Mexico students Jade Archuleta and Sonny Trujillo developed an app to win the recent Google WE Hackathon in Los Angeles. (Jim Thompson/Albuquerque Journal)
You heard it here: "Hacking" gets a bad rap. It's really a worthwhile endeavor intended to do good for others.
Just ask University of New Mexico computer science seniors Sonny Trujillo and Jade Archuleta, who recently teamed up to win the Google WE Hackathon in Los Angeles.
Never mind that your bank or credit union may have just issued you a new ATM card and you were forced to memorize a new PIN code because some devious hacker infiltrated your favorite retail store's computers.
"This whole hacking culture … has nothing to do with breaking the law or anything like that. What ended up happening is that the word got picked up somehow and it got turned into this kind of negative thing, when really hacking is all about fixing stuff and building things quickly and getting stuff working," Trujillo said.
Still, he said, he and Archuleta are very aware of the popular connotation for the word and, in fact, when Archuleta told a friend they were going to L.A. to compete in a hackathon, the response was, "What? That's illegal!"
But, Trujillo said, what computer science students do in a hackathon is strictly aboveboard: "It's like a marathon for computer science geeks."
The Google Hackathon was part of a Society of Women Engineers convention held in Los Angeles in late October. About 30 UNM engineering students attended the convention.
Trujillo and Archuleta are officers of the society's UNM chapter. In fact, Archuleta talked Trujillo into joining the group. And, no, Trujillo isn't a woman, but you don't have to be one to join the society. "It's no big deal," he said.
To win the Google Hackathon, contestants had 24 hours to come up with an idea for an app and then create the program.
The two UNM students called their winning app Window Shopper. 
The Window Shopper app is used to compile a wish list of products from online retailers that can be organized by type, price, store, etc. The shopper can later go back to items on the wish list by simply clicking on a product's icon.
Trujillo and Archuleta worked on the app from 6 p.m. on Oct. 24 to 3 p.m. on Oct. 25, taking only occasional short rest breaks. This after spending the entire start day conventioneering.
But the hard work paid off in the first prize of a Google Chromebook each and, more important, getting noticed by professional engineers.
"A lot of Google engineers encouraged us to keep working on it," Trujillo said, which the two plan to do after finals. "It would probably be a free app with the potential for advertising."
Trujillo received his high school diploma from Amy Biehl and Archuleta from Eldorado in Albuquerque. Both expect to receive their bachelor's degrees from UNM this May.
"Either that, or my parents will kill me," Archuleta said, though she hopes to go straight into graduate school.
She says she has been interested in computers and programming since she was young, learning from websites and "programming anything I could."
Her advice to girls interested in a technical field like computer science is to "stay active, keep programming and find a mentor in the field."
Both emphasized the importance of studying math throughout the elementary and secondary school years. "I had to do some catch-up work in college," Trujillo said. (Tell me about it – I became a journalist. And it's long been said that there are three kinds of journalists when it comes to math: those who understand it and those who don't.)
It also helps for a child interested in computers and engineering to have strong parental support.
I found out about the Google Hackathon in an email from Trujillo's mom, Judith Gallegos, who said she was "amazed, impressed and proud – you name it" when the two students won the contest.
Gallegos said her son started buying technical books that "looked foreign to me" when he was just 10 years old.
Trujillo's advice to parents about their technically inclined children: "Give them the freedom to explore."
And from Archuleta: "Encourage them … that's really all they need, and to understand that they're working really hard at something that's going to pay off, so be supportive."
That's really not such an unreasonable task, for good reason.
"I think in general, nobody is complaining if their kid wants to be an engineer," Archuleta said.
She's got a point.
When Payscale, the largest database of individual compensation profiles in the world, ranked 129 college majors in 2013 based on salary potential, eight computer-related majors were in the top 30. Computer engineering ranked sixth, with a potential midcareer salary of $106,000. Computer science ranked eighth, with a mid-career salary potential of $102,000.
Not bad for a hacker – the good kind.