Outlook Express 6
Outlook Express comes bundled with Microsoft Windows. These instructions assume that you are using Outlook Express 6 for Windows 98/Me/2000/XP. The configuration may be slightly different for other versions of Outlook Express. We strongly recommend you make sure your Windows OS is fully up to date with all the patches. You can visit www.windowsupdates.com to download all the latest patches. You must use Internet Explorer for this site to function properly.
Open Outlook Express. (Note: You may get a message asking if you want Outlook Express to be your default mail client. You probably will want to click on "Yes.")
In the "File" menu scroll down to "Identities" and select "Add New Identity." This will start a wizard which will guide you through the process of setting up Outlook Express to handle your IMAP email. (Note: If you have never started Outlook Express before the wizard may start automatically when you first run the program)
Type in your name as the name of the identity you are creating. Click "OK." Outlook Express will ask if you want to switch to that identity. Click "Yes."
Outlook Express will briefly search your computer to find any existing email accounts. You may then be given the option of importing the settings from any existing email accounts that are found or creating a new account.
Click on the radio button for "Create a new Internet mail account" and click "Next." Type in your name as you want it to appear on outgoing email and click "Next."
Type in your email address in the form username@cs.unm.edu, where "username" is your Computer Science username, and click "Next." Change the drop-down menu to IMAP. Enter the name of the Incoming mail server as mail.cs.unm.edu,and the Outgoing mail server as the appropriate server name:
Computers in Farris or other on-campus buildings: use mail.cs.unm.edu
Computers located off-campus: You can use mail.cs.unm.edu
You can use your ISPs outgoing mail server
Enter your CS username in the Account Name field and click "Next." Note: If you want Outlook Express to remember your password, you can check the "Remember password" box and then enter it in the "Password" field. We advise you not to do this, as anyone with access to your computer will be able to check your mail. When you are done you need to go to Tools-> Accounts. If you have more than one account, be sure to select the CS account. Click on Properties, and select the "Advanced" tab. Click on the Server Settings for your CS E-mail account and turn on " Use Secure Connection (SSL). This will automatically change the port to 993, which is correct. If you are using mail.cs.unm.edu server, click on the Outgoing server (SMTP). Make sure Username and Passwd is selected, and check "This server requires a secure connection". If you are using another outgoing mail server, you will most likely not need to change this setting.
Click "OK." Outlook Express may then ask if you want to import your address book from another email client. If you have another email client and have addresses you want to import, you can do this now. If you don't have addresses to import or choose not to import them at this time, you are ready to use Outlook Express 5 as your POP email client. Note: You may see a message indicating that Outlook Express does not trust the certificate used. The certificate being used is a valid certificate, it's just that it was created at UNM, not purchased from an agency that Outlook Express is aware of. Unfortunately, there is no way to tell Outlook Express to trust this certificate now and in the future. Mozilla Mail does allow you to do this.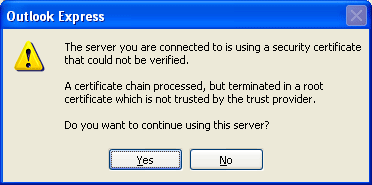 Click Yes to continue. You can contact CS System Support Group Members by emailing to cssupport@cs.unm.edu if you have further problems with your email-client. by Venkata and Chad Lundgren